SPOTLiGHT ACTRESS-MYOLiE WU
after reading more and more things on Myolie & her weight gain i decided that other than the fact that i love Myolie i wanted her to be the SpotLight Actress because i really admire her.
Name (English): Myolie Wu
Cantonese/Mandarin Name: Wu Hang Yee / Hu Xing Er
Nickname: My Lo My / Myo
Profession: Actress / singer
Date of birth: November 6, 1979
Height: 170 cm
Birthplace: Hong Kong
Star sign: Scorpio
Blood type: A
Height: 172cm (5'7 ft)
Family: Parents, grandmother, two older sisters, and a Japanese step-mother
Education: Methodist College Belfast in Northern Ireland, UK and Hong Kong University of Science & Technology(Biochemistry major)
Language: Cantonese, Mandarin, English and a little Japanese
Catch Phrase: "Hai lo!" (Yeah!)
Relationship Status: single
Hobbies: eating, cooking, singing, and playing XBOX
Clothing Style: casual
Favorite Sport: fishing
Favorite Part of Body: waist
Favorite type of food: hot and Spicy
Favorite Food: mostly anything except for internal organs
Favorite Fruit: pineapple, mango, and seedless grapes
Favorite Drink: fruit juice but no sugar!
Dislike Weather: hot weather
Favorite Color: bright colors
Favorite Animal: cat
Favorite Places: London, Rome, Japan and etc.
Favorite Movie: Kill Bill 1/2
Favorite Singers: Love Psychedelico, Jay Chou, Eason Chan, and Joey Yung
Idols: Tom Hanks, Nicole Kidman, and Andy Lau
Idol most wanted to work with: Andy Lau
Favorite character role: Ling Ling from Survivor's Law
Most memorable character role: Yan Yan from Golden Faith
Unforgettable experience: Winner of the first TVB Most Improved Actress Award in 2002
Goal: Become a successful actress & to win the Best Actress Award
At the age of 12, she went to study in the UK for 6 years before coming back to HK to major in Bio-Chem in the HK University of Science and Technology.
Series She's Been in So Far
War & Destiny (2006)
When Rules Turn Loose (2005)
Wars of In-Laws (2005)
The Gateau Affairs (2005)
Scavenger's Paradise (2005)
Lost in the Chamber of Love (2005)
Dream of Colours (2004)
Supreme Fate (2004)
Net Deception (2004)
Triumph in the Skies (2003)
Virtues of Harmony (2003)
Survivor's Law (2003)
Golden Faith (2002)
Family Man (2002)
Doomed To Oblivion (2002)
Eternal Happiness (2002)
At Point Blank (2001)
The Awakening Story (2001)
Legal Entanglement (2001)
A Colourful Life (2001)
Songs That She has OUt ;
All About Women CD (Various Artists) Fortunetly
1+1 (Radio Drama Theme Song)
Lost In The Chamber of Love Theme Song Duet With Ron Ng
Scavenger's Paradise Theme Song with Rojer Kwok ; Kenneth Ma ; Cherie Kong
War of the in Laws Theme Song with Liza Wang and Bosco Wong
Myolie entered the Miss Honk Kong in 1999 and won second-runner up of that year. That was her first step into the entertainment field. She joined TVB and started out as minor characters in a few of her first TV dramas, but her talent was recognized after starring in Golden Faith as the mentally challenged little sister of Gallen Lo. That had became her most breakthrough role and for that year, Myolie was the first young actress to receive the Most Improved Artist Award from TVB Anniversary. She has been promoted ever since leading in almost all of her series starring opposite many popular veterans and young stars. Myolie is now one of the most promising young actress at TVB gaining many new fans by her acting charm and charismatic screen presence.
In 2006, Myolie has taken another step in her career to sing the theme song for her upcoming series War & Destiny. She was praised by the producer Mark Lui and singer Justin Lo for her ability to control her voice. TVB is now in the process of planning to help her release a personal album for herself.
Back in 2001, when she was on the set of "Family Man", one of the directors predicted that she will never gain popularity. He told her, "No matter how I look at you, you will only be a fourth-tier actress! For people like you, if you can't come out on top from the start, you don't stand a chance to compete. It will be difficult for you to succeed!". However, as the years passed, Myolie has proven the director to be wrong and has risen to the top to become one of the "new generation" of TVB fa dans. At the "Next Magazine TV Artists Awards 2006", she was placed 7th respectively out of the 10 most popular TV artists voted by the audience. Her future goal is to get the "Best Actress Award".
Currently ; She is now filming 'Lush Feilds Happy Times' and being the very professional actress she is, Myolie gained weight until 150 pounds and hardly do we ever hear her complain! I hope that this series gets great ratings and she will loose her weight as soon as possible when filming is done! A lot of other actresses wouldnt give up so much to do a series but Myolie does and i admire her professionalism.
Pictures ;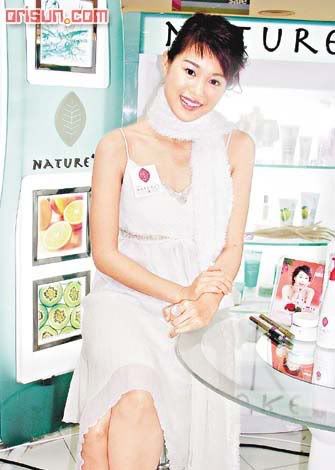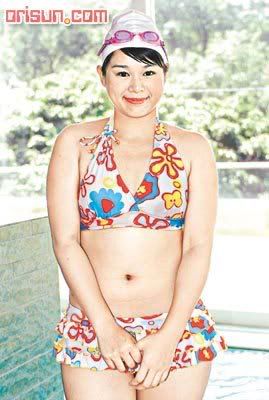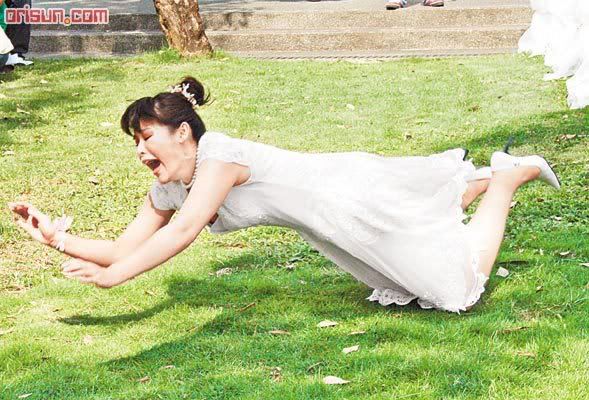 LiSA_K3 ; it hurts me so much inside to see Myolie suffering so much!